Trenchless Sewer Line Replacement and Repair
A sewer line repair used to mean a huge hole in the lawn.  And a replacement was pretty much the same as a new sewer line installation, requiring digging a trench from a home or business out to the city sewer main at the street.  That seemed to always involve cracking through a driveway or walkway.  Even repairs could take several days for one contractor to do the digging, then a plumbing contractor licensed for sewer repair, a city inspection of the repair, back-filling the hole, restoring landscaping, and repairing concrete or asphalt.
But that's not true anymore.  Today's trenchless sewer line replacement technologies can avoid all that disruption and delay, often at a much lower total cost.  Plus starting with an in-pipe video inspection means big surprises along the way are also a thing of the past.
The Problem
Many older homes still have sewer pipes with joints that can separate and leak hazardous sewage.  That includes clay pipes that can crack or collapse and cast iron lines that can corrode.  And in rare instances "Orangeberg" pipes that are little more than tar paper.  In addition to separating or offsetting joints, ground settling can cause dips ("bellies") that lead to frequent clogs and backups.  An invasion by tree roots may be so severe that just clearing the line is likely to only lead to leaks and repeat growth.  Finally, the inside walls of the pipe may become so rough with corrosion, scale, or stubborn build-up that frequent clogs and backups simply can't be avoided.
A problem at one particular spot can be repaired by digging a large hole for access, then replacing a short section of the sewer line.  But for older pipes and those in generally bad condition a complete replacement may be necessary.
Trenchless Line Replacement
Quality Service with the best plumbing technicians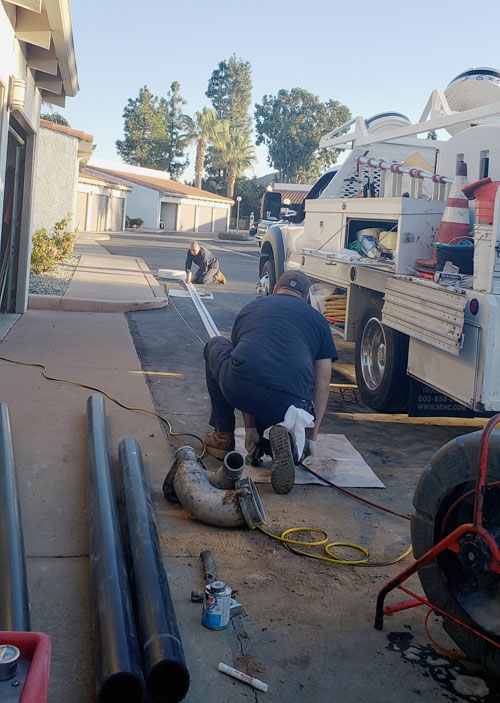 New Technology to the Rescue
There are several new trenchless sewer line repair and replacement methods now available.  But unfortunately many homeowners and business owners aren't aware of them.  Here are the major contenders.
Hydro jetting uses high-pressure jets of water to blast away mineral scale and other deposits and cut through tree roots.  It leaves the lines as smooth and clean as when they were first installed.
Pipe bursting is a trenchless sewer replacement technology that sends a special mechanical "head" down the line to burst apart the existing pipe to make room for a new line.  That line is pulled through as a single seamless piece of flexible plastic pipe so there's no joints to ever leak.  It doesn't corrode and is highly resistant to tree roots.  The materials used have an expected lifetime in the decades, and should outlast the best of previous pipe materials.  Although there's no trenching, one or two access holes are required.
Pipe lining also requires one or two spots for access.  But it leaves the existing pipe as-is.  Instead it pulls through a resin lining that cures into a solid liner.  That forms essentially a single seamless new pipe inside the old one.  This technology is also called a cured-in-place pipe (CIPP).
Our Services
We offer all of the above techniques for residential and commercial buildings.  Our experts will begin with a video sewer line inspection in order to completely understand the conditions all along the full length of the line.  You can have a look yourself while they discuss their findings along with the pros and cons of the options most suited to your situation.  Once you've decided we'll provide a detailed estimate, and then charge by the job not by the hour.
Need Trenchless Sewer Line Replacement?
Call (951) 447-8227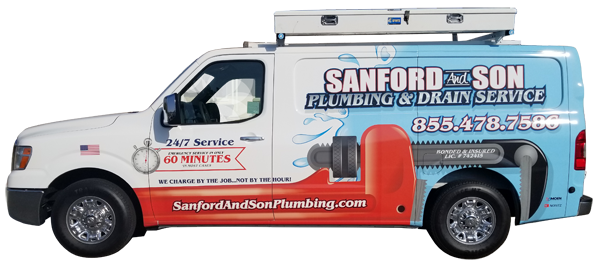 Our Recent Trenchless Projects