Murrieta, California Plumbing Services
Have a plumbing emergency?  We serve all Murrieta, California 24/7, and can be at your home or business within an hour.  A full-service plumbing contractor we're ready to handle everything from jammed garbage disposal to kitchen and bath remodels.  Even completely re-piping the building.
Our expertise includes sewer and drain services, water heater installation and repairs, electronic leak detection, slab leak repairs and more.
Sanford and Son Plumbing
With over 25 years experience, we're fully licensed and insured for residential and commercial work.  You can count on our prompt emergency service and detailed estimates.
We charge by the job, not by the hour, so there are no big surprises.  We know that work such as a water heater replacement or new sewer line are a major and unexpected expense so we can make financing available.
Need A Plumber In Murrieta?
Contact Us For 24/7 Immediate Response
Sewer and Drain Services in Murrieta
Our sewer and drain cleaning services go beyond the ordinary.  Have a sewer blockage?  Our state-of-the-art inline sewer camera will show us exactly what the problem is and where it's located.  That way we can give you an up-front price with no surprises.
Have you been having a recurring drain or sewer problems? Our powerful hydro-jetting equipment blasts away every last bit of grease and grime buildup, and even cut through most tree roots.  With the insides of the pipes as clean as new there's nothing to re-start the re-accumulation of buildup.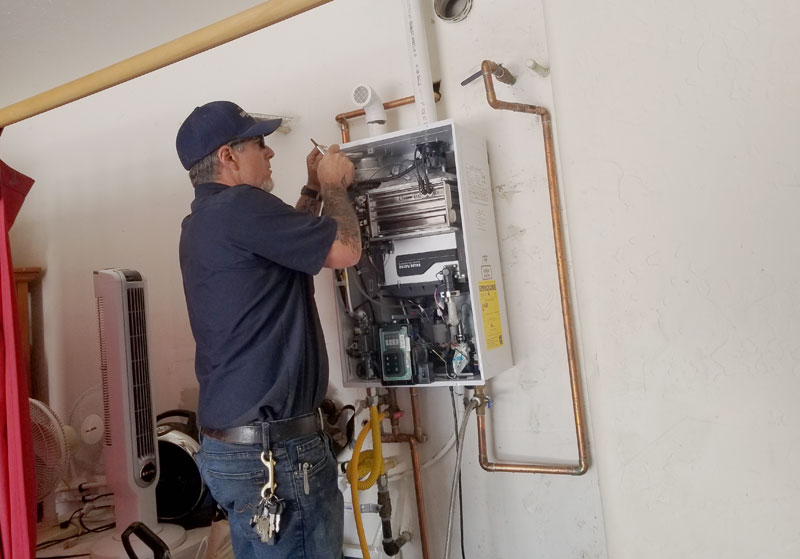 Water Heater Repair and Replacement
We're Murrieta's leader in water heater installation and repairs.  Our specialists are expert troubleshooters, going straight to the problem (such as a failed thermocouple, thermostat, or heating element) for a fast and economical repair.  If it's time for a replacement (today's models typically last 8-12 years) they can usually complete the installation in just a few hours.
Our leadership includes being certified for tankless water heater installation, repair, and maintenance.  By heating only the water you use, as you use it, it gets rid of losses from a big storage tank.  That means they often use on the order of 1/3 less energy.  It also means you'll never run out.  Tankless water heaters are quite small so that they can be mounted right at the point of use for instant hot water.  And with annual maintenance, you can expect one to last around 20 years.
Have A Plumbing Emergency In Murrieta? You Can Count On Us! Call (951) 447-8227

Murrieta Leak Detection, Location, and Repair
We have the latest in electronic leak detection equipment.  Together with our decades of experience, tracking down the source of a hidden water leak is not a matter of educated guesses.  So there won't be a series of holes in your walls or floors to be repaired.
That's especially important for slab leaks underneath a concrete floor.  Starting at the wrong location means the added cost of jackhammering through concrete and replacing flooring in more than one spot.  The right location may mean that a far less disruptive and much more economical alternative may be viable.
Slab leak repair options include re-routing new pipe to bypass that under the slab, or inserting a cured-in-place pipelining.
Plumbing Repairs, Replacements, Remodeling
With master plumbers and a California contractor's state license, there's not much we can't do to meet your plumbing needs.
Installing toilets, showers, tubs, faucets, sinks, and garbage disposals
Kitchen remodels
Full re-piping projects
Bathroom and shower remodel
Appliance Installations
Gas line upgrades
Our Recent Projects In Murrieta
Have A Plumbing Emergency In Murrieta? You Can Count On Us! Call (951) 447-8227