Faucet Repairs and Replacements
Have a dripping faucet in the bathroom or kitchen that's driving you nuts?  Thinking about a new faucet to replace one that's looking old and out of style?  Our residential and commercial plumbing services include expert faucet repair & installation at very economical rates.  And our emergency service plumbing repair pros can be there in an hour or less.
Sanford & Son plumbing provides professional and affordable faucet repair and replacement services to all Lake Elsinore, Temecula, Murrieta, Sun City, Menifee, Wildomar and surrounding areas.
Dripping Faucets
With further wear, drips only get worse.  One drop a second totals up to a surprising 2,300 gallons per year.  That's more than an annoyance — it's enough to notice on your monthly utility bill.  Unfortunately the days of quick-and-easy washer replacement are long gone.  Today those compression-type faucets are only used on outdoor taps and washing-machine hookups.
Contemporary designs include more complex mechanisms that can wear out, but more commonly it's an o-ring or other seal that's become old or has mineral deposits.  We'll quickly repair any kitchen or bathroom faucet — whether a compression, cartridge, ball, or ceramic design.
Got A Leaky Faucet?
We Can Repair or Replace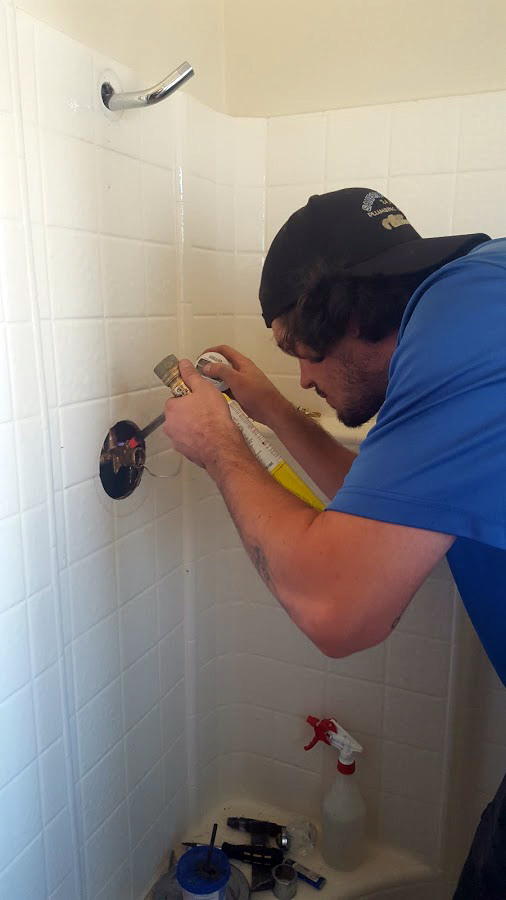 Faucet Installation
We provide excellent faucet installation services whether it's purchased through us or directly yourself.
A stylish and convenient kitchen or bathroom faucet is a focal point, and a quick way to refresh the look of a room.  And we have decades of experience installing faucets and other plumbing as part of remodels.  Die-cast alloy models are fine, and look great. But solid brass bathroom or kitchen faucets are the most durable and long-lasting.
Leading brands of new faucets include American Standard, Delta, Grohe, Kohler, Mohen, and Toto.
Kitchen and Bathroom Faucet Repairs
Those economical rates mean there's no need for you to go out and buy tools then fumble around yourself.  When we fix your faucet it stays fixed.  Whether it's a leak, broken handle, or whatever.
Leak Repair
Those seals and rings can also lead to leaks around the body or other parts of the faucet.  They're are also quick-fixes for our professionals, but if the body itself is cracked or corroded it will be necessary to replace the whole unit.
Why Choose Us?
Sanford and Sons has been in business providing faucet repair & installation plumbing services for over 25 years.
We charge by the job, not by the hour, and will beat any written quote by any other licensed plumbing company.
Got A Leaky Faucet?
We Can Help! Call (951) 447-8227