Leak Repair Plumbing Services
If you have water spraying or gurgling, you know you need to call a plumber for a leak repair. But a small water leak is no small matter. Just a slow drip from a faucet into the sink wastes 10 to 20 gallons each day. That's 500 gallons per month, 6,000 gallons per year! If that slow drip is from a pipe or fitting it does more than wastewater. It's enough to cause water damage. That can be happening inside walls, or even under a concrete floor requiring a slab leak repair.
Water damage is the most common property insurance claim with pipes, fixtures, and appliances as the leading cause. Insurance may cover that damage, but not if you've neglected maintenance and prompt repairs. Fully licensed and insured, we've been in business providing quality residential and commercial plumbing services for over 25 years. We typically arrive for emergency service in only 60 minutes. We're ready for leak detection and repairs, and in most cases, we can be at your home or business in less than 60 minutes.
Sanford & Son plumbing provides professional and affordable leak detection and repair services to all Lake Elsinore, Temecula, Murrieta, Sun City, Menifee, Wildomar, and surrounding areas.
Fixtures
Dripping faucets in the kitchen and bath are an annoyance that only gets worse with time. So it's best to get those water leaks fixed now rather than later. There can also be leaks in the plumbing right under the sink, as well as along drain pipes. Toilets can leak from a variety of connections — at the valve near the wall, at the water supply to the tank, between the tank and the bowl, and between the bowl and the sewer fitting at the floor. We can quickly take care of them all, charging at a flat rate rather than by the hour.
Get a Free Leak Detection With Repair
Quality Service with the best plumbing technicians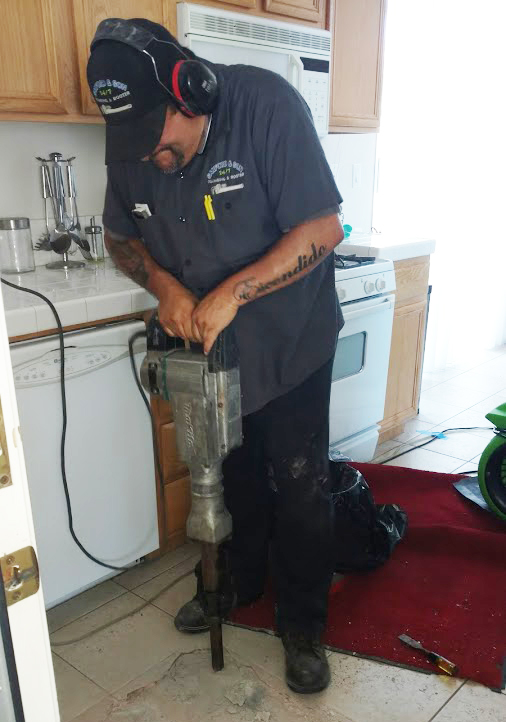 Pipe Leaks
Pipes and the fittings connecting them can develop leaks. Poor workmanship and materials may not show up as problems for years, but a leak is much more commonly due to corrosion and age. That's especially true for galvanized iron pipe, but even copper plumbing pits and corrodes. Our leak repair plumbers can replace a fitting, a section of bad pipe, or completely repipe the entire building.
Slab Leaks
A water leak underneath a concrete slab foundation (the most common type of construction in Southern California for many decades) is called a slab leak. They can go on for a month after month before they're recognized, doing potentially very serious damage all that time. Besides causing mold in and under flooring, they can lead to erosion that undermines the structure causing walls and even ceilings to crack. Your only clue might be a jump in your water bill, damp or warm spots, or the
tell-tale signs of mold.
Our slab leak repair specialists start with electronic leak detection to pinpoint the location. We can then appraise you of the pros and cons of the various methods — spot repair, repiping bypass,then complete the leak repair at no-surprise pricing.
Do You Have A Pipe or Slab Leak?
We Can Help! Call (951) 447-8227