Hydro Jetting to the Rescue
Sometimes a plumbing snake just isn't enough to fully take care of sewer and drain cleaning, especially in residential and commercial kitchens. That's because even the most skilled drain service with the best cabling equipment can't completely remove all grease and grime build up. What remains traps food particles and in turn, further build up, and you soon have the same problem all over again. So we have advanced hydro-jetting equipment to give our drain service customers long-lasting results.
Sanford & Son plumbing provides professional and affordable hydro jetting services to all Lake Elsinore, Temecula, Murrieta, Sun City, Menifee, Wildomar, and surrounding areas.
The Benefits
Drain and sewer jetting don't just unclog a pipe, they clean it. Unskilled drain snaking may only poke a hole through accumulated grease, hair, lint, grime, and sludge.  A single scrap of food can plug that hole and cause another backup the very next day, or perhaps a month or so later. Our hydro-jetting services leave the inside of your pipes as clean as when they were new. With smooth surfaces and faster flow, there's nothing to catch debris, delaying and slowing the accumulation of grease and grime.
The bottom line is that we can state the benefits of sewer jetting in just three words: long lasting results.
Schedule Hydrojetting Today!
Quality Service with the best plumbing technicians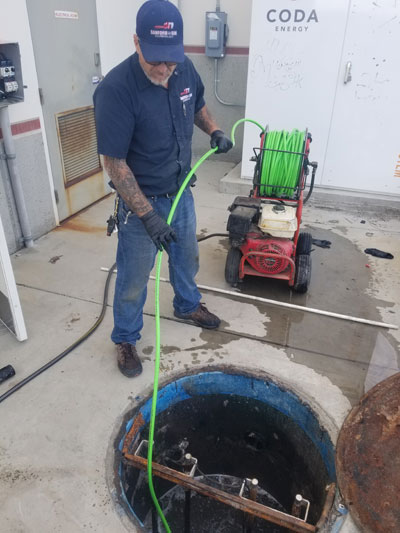 How It Works
Invented in the 1950s, hydro jetting (also called water jetting or sewer jetting) uses powerful jets of water to thoroughly clean the inside of of drain and sewer lines. These drain cleaning machines work much like power washers. Portable equipment is great for drains, and more powerful sewer jetters can tackle just about anything.
Special pumps boost water pressure to several thousand PSI (pounds per square inch) and send
it through high-pressure hoses that can reach as far as 200 feet. A "head" goes into the sewer line and includes several nozzles that focus the high-pressure water into small jets that blast away grease, grime, and scale. High-pressure water jets can even cut through fine tree roots and remove mineral scale. The jets are small and hit at a glancing angle so that despite the high pressure it's completely safe for any type of pipe in reasonably good condition. We'll do a thorough inspection before we start to make sure that's true.
Once it's blasted through any obstructions we send the nozzle and jetting hose down to the far end of the pipe and work backward to thoroughly clean the line. That way loosened sludge and debris flow freely out to the municipal sewer.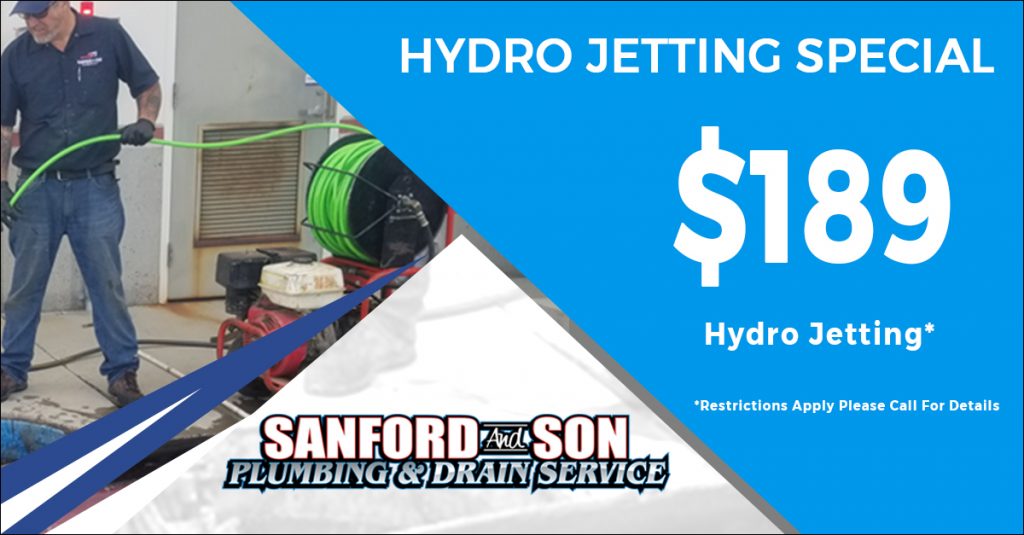 Need Hydro Jet Service?
Call (951) 447-8227