Wildomar, California Plumbing Services
Need a Wildomar plumber right away?  For most emergencies we'll be there in only 60 minutes, anytime 24 hours a day.  Whether an emergency, scheduled services, a remodel, or a repiping project you can count on us for quality work at economical rates.  We're licensed and insured as a general plumbing contractor for residential and commercial plumbing services. And we're Wildomar's experts in sewer and drain services, water heater installation and repairs, electronic leak detection, slab leak repairs and more.
Sanford and Son Plumbing
We take pride in all our work and never cut corners.  In business for over 25 years we charge by the job, not by the hour like most plumbers.  Giving back to those who support the Wildomar community we offer discounts to seniors, military personnel, police officers, and firemen.  And we'll meet any quote from a licensed plumber.
Need A Plumber In Wildomar?
Contact Us For 24/7 Immediate Response
Sewer and Drain Cleaning
Our drain cleaning service is budget-minded, fast, and thorough.  We'll clear any blockages and remedy slow-draining problems so they won't be coming back any time soon.  The same goes for our sewer line cleaning.  If the problem isn't immediately clear, our in-pipe sewer camera will tell us everything we need to know.  If it looks like repair or replacement is the best route forward you can have a look yourself before making a decision.
Hydro Jetting
As buildings get older grease, grime, and sludge build up in drain and sewer lines.  While cabling (drain snaking) gets removes most of that, sometimes it isn't enough.  Our state-of-the-art hydro jetting equipment creates jets of high-pressure water to scour away build-up and mineral scale.  It can even cut through tree roots.  With the insides of your pipes clean and smooth as new there's nothing for debris to catch on, and grease builds back up far more slowly.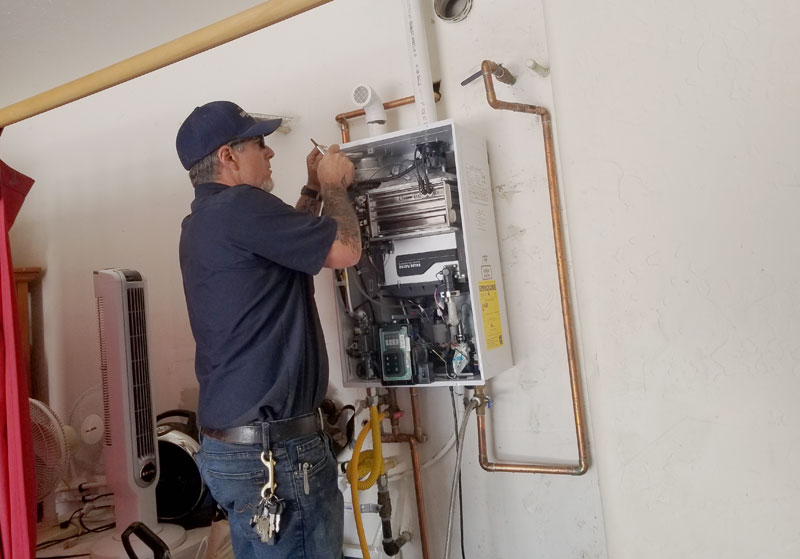 Water Heaters
Need a new water heater?  Whether gas or electric our specialists can install a replacement hot water in just a few hours, often the same day you call.  Suddenly don't have enough hot water?  Notice strange noises or foul water?  With years of troubleshooting experience our repair experts go straight to the actual problem.
Our repair and installation expertise includes tankless water heaters.  Highly compact, they can install in a kitchen or bath for near-instant hot water that never runs out.  As an added bonus they use up to 1/3 less energy and last around twice as long as standard tank models.
Have A Plumbing Emergency In Wildomar? You Can Count On Us! Call (951) 447-8227

Plumbing Leaks, Slab Leaks
Some leaks are obvious.  But even large leaks under a concrete slab floor or within a wall can be difficult to track down.  Combining years of experience with the latest in electronic leak detection instruments our pros can find out for sure if there is a leak, and then pinpoint its location.  That's especially important for slab leaks, where our repair options include a spot repair, re-routing, and pipe lining.  The relative costs can be quite different depending on the exact location and overall condition of your plumbing.

Repipes
From  replacing a single line or upgrading an entire building our repiping services cover water, sewer, and gas lines.  You'll be in compliance with the latest Wildomar building codes and have the reliability of new pipes.  Our master plumbers will be happy to discuss the pros and cons of different levels of repiping as well as the choice of copper, PEX, and other materials.
Have A Plumbing Emergency In Wildomar? You Can Count On Us! Call (951) 447-8227