Residential Plumbing Services
Whenever you need residential plumbing services we're ready.  We'll be at your home within an hour nearly every time for quality work at economical rates.  Our expert services include leak repair, main sewer line repair, sewer and drain cleaning, toilet repair, water heater installation & repair, and much more.
Sanford & Son plumbing provides professional and affordable residential plumbing services to all Lake Elsinore, Temecula, Murrieta, Sun City, Menifee, Wildomar and surrounding areas.
Drain and Sewer Services
Unlike many sewer and drain cleaning services we charge by the job not by the hour, so you'll have no surprises once all your drains are free-flowing again.
Sewer and Drain Cleaning
Whether it's kitchen sink or bathroom plumbing drain cleaning, we know the best way to clear every type of clog.  That's usually traditional cabling (drain snaking).  But when you're facing repeated problems from heavy grease or other buildup our hydro jetting provides a long-lasting solution.  It uses jets of high-pressure water to safely scour the inside of drain and sewer lines to leave them as clean as when they were new.
Main Sewer Line Repair
If your sink or toilet backups are caused by a blockage in the sewer line our experts can perform a camera line inspection to identify the problem.  It could be tree roots, a foreign object that got flushed, or just grease and grime.  If cabling, augering, and hydro jetting won't clear the problem a sewer line repair will likely be necessary.  We can also repair or replace sewer pipe if there are sewage leaks due to corrosion or separated joints, if an older line has collapsed, or if there's been any other damage.
Get An Estimate Today!
Quality Service with the best plumbing technicians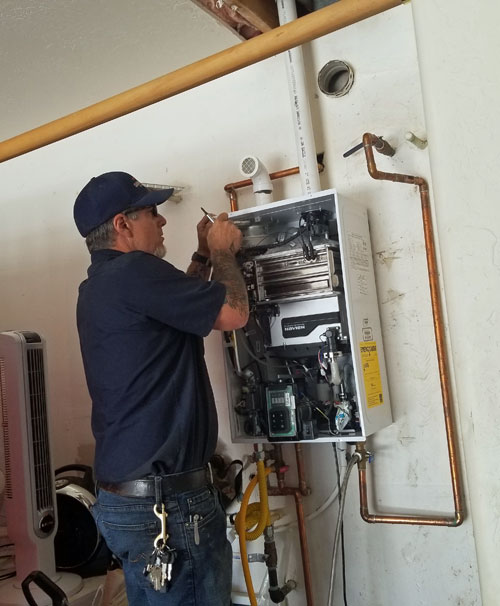 Water Heaters
Having trouble with your hot water heater?  We'll quickly have everything back to normal with expert diagnosis, repair, and replacement services.
Repairs — The most common problems with gas heaters include faulty thermocouples (part of a safety gas shutoff-system), out of adjustment burners, and faulty electronic ignition units.  For electric models it's often a matter of replacing the thermostat or heating elements.  Both types may need water heater leak repairs, but it the tank itself is leaking the only option is a replacement installation.
Installation — Today's residential models usually last some 8 to 12 years.  The warranty is actually a fairly good estimator.  Our plumbers can complete a replacement home water heater installation in just a few hours.  The lowest cost is likely a new heater pretty much like your old unit.  But it's worthwhile to reduce overall long-term costs by choosing a high-performance model.
Tankless Water Heaters — By heating only the water you use as you use it, tankless technologies avoid the heat losses from a big storage tank.  Also called on-demand, energy.gov reports that they can use as much as 34% less energy.  They also last about 20 years.  Best of all they provide an endless supply of hot water — no more cold showers or waiting for a tank to heat back up.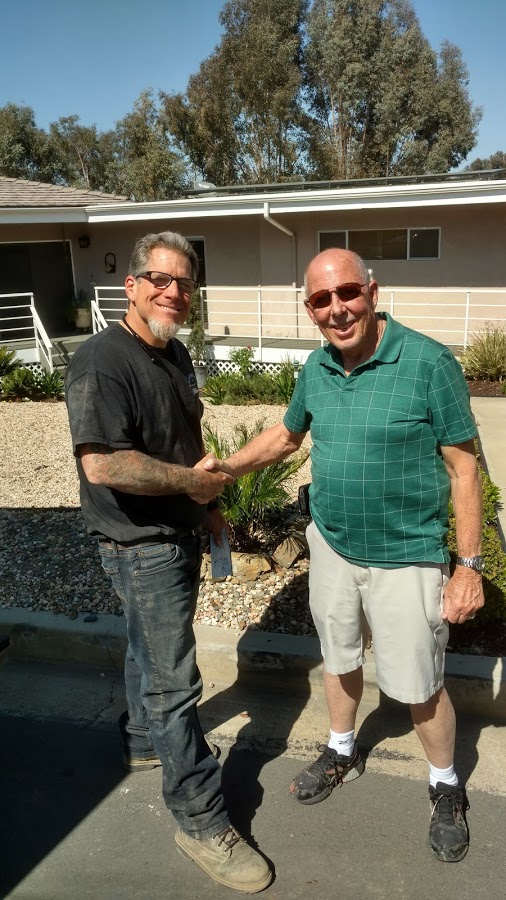 Our Other Residential Plumbing Services
We're a full-service plumbing contractor, ready to meet all your residential plumbing needs.
Leak Repair
Don't risk water damage — a lot can be going on out of sight.  Our well-trained technicians use the state of the art leak detection technologies and techniques to identify any problem and quickly track down its location.  So there's rarely more than one access hole for a leak repair.  That's especially important for slab leaks underneath the floor with concrete slab-on-grade construction.
And More
We're well qualified for the full range of plumbing services, including the following.
clogged toilet repair and other toilet repairs
faucet repair and replacement
garbage disposal repair and installation
sink, tub, and shower upgrades
sump pump installation, maintenance, and repair
Employing master plumbers we're ready to take on major projects such as kitchen and bath remodels as well as water, sewer, and gas re-pipes.
Choose Sanford and Sons
We're fully licensed, bonded, and insured with plumbers certified for sewer and gas line work.  With 25 years experience our team delivers top-quality work at rates that beat the competition.  We charge by the job rather than by the hour, so our estimates are more like quotes.  Plus we care about our community and offer generous discounts to firemen, military, police officers, and seniors.