Repiping Plumbing Services
Has your plumbing reached the end of its lifetime?  Have you been through too many leaks or your pipes are filled with deposits?  Our repipe specialists will be happy to have a look, advise you on your options, and provide a free estimate.  If you're moving into an older home with galvanized pipes or poor-quality plumbing, our copper repipe plumbing services can be a great investment.  Or choose a lower-cost long-lasting PEX repipe.
Sanford & Son plumbing provides professional and affordable repipe services to all Lake Elsinore, Temecula, Murrieta, Sun City, Menifee, Wildomar and surrounding areas.
Plumbing Problems
There are several warning signs that your water piping has become a problem.  The first is, not surprisingly, leaks.  But they may not be obvious, only giving you clues such as water stains or dampness.  Our leak detection experts can quickly pinpoint a location for repairs and appraise the overall condition of your plumbing.
Another indicator is low water pressure caused by scale, rust, and other deposits inside pipes.  That means low flow rates, especially when another fixture or appliance is being used.  Low water pressure can also cause a shower to suddenly run hot or cold.  And those deposits can break loose and damage faucets and appliances.
Need A Repipe Schedule Today!
Quality Service with the best plumbing technicians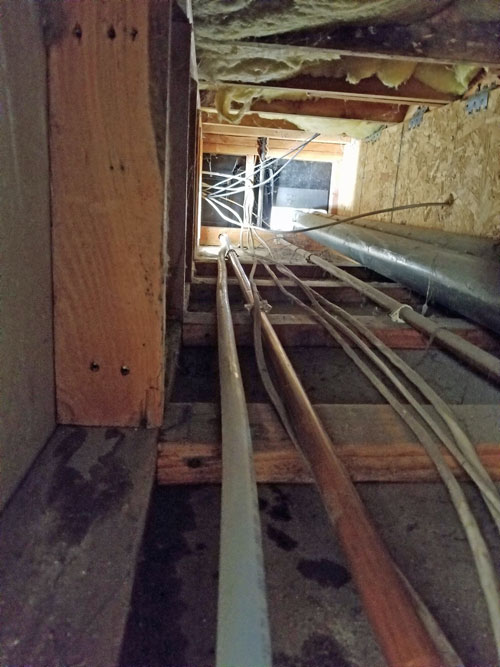 Repair Versus Replace
If there's only localized damage or corrosion in just a few spots then a repair is usually the most economical solution, even in the long run.  But if your plumbing is in generally poor condition or has had multiple repairs then it's probably time for a plumbing upgrade.  We generally recommend re-piping for homes that have galvanized pipes (used in homes through the 1960s) or low-quality plastic or copper pipe.
Slab leaks may also call for re-piping.  Rather than hacking through the concrete slab for a repair it may be better to run new pipes around the outside edge of the foundation.
Repiping Options
If you choose repiping, you have several options in material.
Copper Repiping — Replacing old water lines with new copper tubing is a popular choice.  It's long-lasting, but does corrode with acidic or high-mineral content water.
PEX Repipe — Cross-linked polyethylene is durable and comes in long, flexible lengths.  That makes it easy to install, but it's important that all fittings and joints are made properly.  PEX is also resistant to scale and chlorine.
PVC — This plastic is sensitive to heat and can only be used in cold water lines such as the main supply and outdoor sprinkler systems.
CPVC –This plastic can handle hot water, but its brittleness and thin walls make it undesirable.
TIP:  The durability of copper repiping depends a lot on the thickness.  Type "M" is inexpensive but its thin walls can corrode through in just a few years.  Type "L," mid-wall is the most popular.  "K" is the thickest but is normally used in industrial settings, not residential.
Your Repiping Experts
Ready to meet all your plumbing needs, we're the area's repipe specialists for PEX and new copper repipes.  With 25 years in business we hold a California contractor's state license for plumbing services and adhere to all codes and permit requirements.
Need A Whole House Repipe?
We Can Help! Call (951) 447-8227