Shower and Tub Plumbing Services
Have an annoying shower or tub problem?  Looking forward to a new look or special features?  We're experts in the repair & installation of showers & tubs, from clogged drains to major remodels.  Our licensed plumbers are known for their quality workmanship and trouble-shooting skills.
Sanford & Son plumbing provides professional and affordable shower repair and replacement services to all Lake Elsinore, Temecula, Murrieta, Sun City, Menifee, Wildomar and surrounding areas.
Shower and Tub Replacements
When repairs aren't possible our installation and replacement experts can handle individual components or a complete shower and tub replacement.  That can be a significant expense and disruption, but it's the longest-lasting solution and an opportunity for upgrades.  If fixtures are scratched, discolored, and out of date then it's probably time.
Our shower & tub pros can install the latest in shower heads for comfort, convenience, and conservation as well as special features such as Jacuzzi jets and whirlpool baths.  And our commercial expertise includes ADA compliance upgrades.
Need Shower Plumbing?
Same Day Service.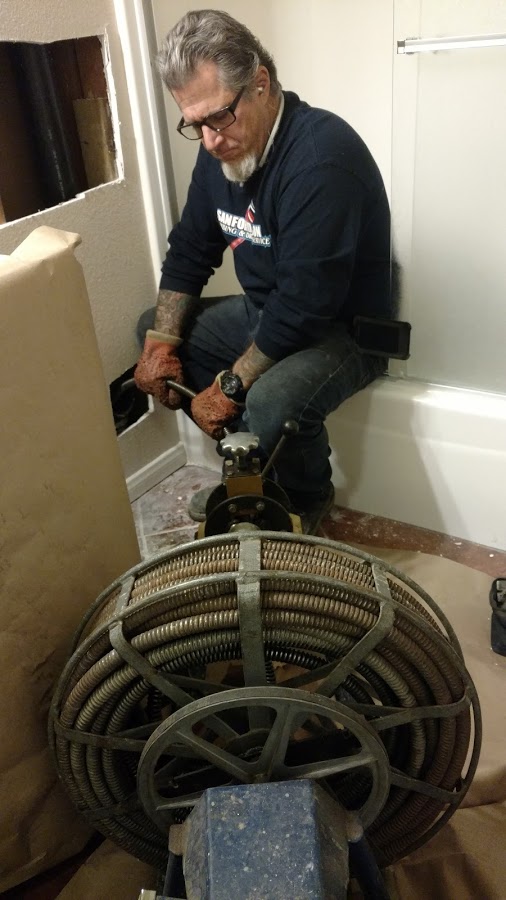 Tub & Shower Repairs
Our professional tub and shower repairs keep your bathroom plumbing in top condition for dependable use and extended lifetime.
Clogs
You can often clear clogs from showers & tubs yourself just by removing the drain cover and pulling out the tangled hair.  If not, our drain cleaning specialists have you covered.
Leaks
A dripping spout is easy to spot, and usually easy for us to fix.  But other shower and tub leaks can occur in valves, drains, and other plumbing.  They're often hidden and can do a lot of damage before you notice any dampness or mold.  Our leak detection experts quickly spot and correct these sorts of problems.
Shower Heads
Before replacing a shower head, give one of the over-the-counter lime and scale removal products a try.  They often clear clogged openings to return you to a full and enjoyable shower.  Our plumbers can also disassemble and thoroughly clean just about any model, but it's often more economical to simply replace it.
Our installation & repair professionals can take care of these and just about any other tub and shower plumbing needs you might have.
Need Shower or Tub Repairs?
We Can Help! Call (951) 447-8227