Garbage Disposal Service
Garbage disposals clog, jam, break down, and simply wear out.  Our plumbing services include garbage disposal repair and new garbage disposal installation.  We're a fully licensed and insured plumbing contractor that's been meeting the area's plumbing needs for over 25 years, so you can count on us doing the job right.  If it's an emergency our garbage disposal service experts can be there within about an hour, and we'll charge by the job rather than the hour.
Sanford & Son plumbing provides professional and affordable garbage disposal repair and replacement services to all Lake Elsinore, Temecula, Murrieta, Sun City, Menifee, Wildomar and surrounding areas.
Give These a Try
Garbage disposals are usually pushed too far.  They were designed to keep food debris rinsed off plates and cooking utensils from clogging your drains — not for getting rid of peels and leftovers.  So it's not surprising that they often clog or jam.  Here are a few quick fixes you can try yourself.
If your disposal won't drain, try freeing the clog with a plunger.  Do not use any sort of drain cleaning product! Acid- and lye-based products attack metal, and sodium hypochlorite (bleach) liquid drain cleaners attack seals and other parts..
If nothing happens when you turn on your unit, there's a couple of things to try.  The motor over-temperature protection may have kicked in.  Wait a few minutes then press the reset button.  If that doesn't do it check if a circuit breaker in your fuse box has been tripped.
If it's still not working or if you hear a loud humming or straining sound there's likely a jam.  Safety First! Don't just make sure your disposal is turned off.  Unplug it or turn off the breaker in your fuse box.  Then use a flashlight to look for any foreign object, including peach pits and tangles of fibrous plant material.  Use pliers, not your fingers to remove them (those blades are sharp!).  Garbage disposals come with an "Allen wrench" crank.  Insert it into the bottom of the unit and rock the motor and blades back and forth to help free a jam.
Need A Garbage Disposal? Schedule Today!
Quality Service with the best plumbing technicians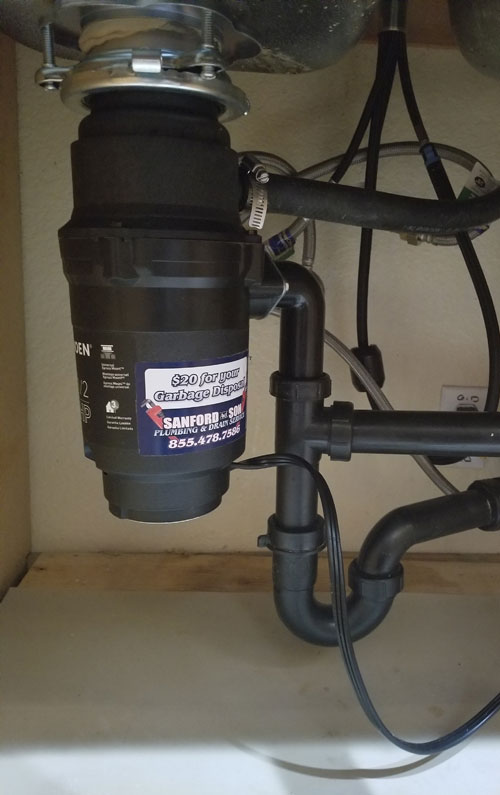 Professional Repairs
If that seems like too much trouble or doesn't fix the problem, give our garbage disposal service experts a call.  In addition to clogs and jams they can take care of leaks in the drain pipe, sink mounting flange, or the unit itself.
Our garbage disposal repairs involve replacing just a few parts; otherwise a new garbage disposal is a better investment.
Replacement Plumbing Services
A brand new garbage disposal usually lasts around 10 years.  If yours is approaching that age, is rusting, has worn bearings, had prior repairs, or has a burned out motor then it's time for a replacement garbage disposal installation.
We'll happy to advise you on the best size.  Common 1/3 HP (horse power) units are often too weak for families, with 1/2 -3/4 HP models being right for most homes.
We stock many major brands such as InSinkerator, Kitchen Aid, Whirlpool,Garrison and several others.  And we can order just about any brand and have it arrive in just a day or two.
Need Garbage Disposal Installation or Repair?
We Can Help! Call (951) 447-8227