Perris, California Plumbing Services
Have a serious plumbing problem at your Perris, California, home or business?  Our emergency service specialists can be there in only 60 minutes.  They're experts in sewer and drain services, water heaters, and electronic leak detection.  A full-service plumbing company we can also take care of installing new fixtures, re-piping, kitchen and bath remodels, and more.  We're known throughout the Perris area for our fast diagnosis and quality workmanship with economic rates for residential and commercial needs.
We're licensed and insured as a general plumbing contractor for residential and commercial plumbing services. And we're experts in sewer and drain services, water heater installation and repairs, electronic leak detection, slab leak repairs and more.
Sanford and Son Plumbing
In business for over 25 years, we set the highest standards for ourselves and stand behind our workmanship.  Fully insured for residential and commercial work we hold a CA contractor's state license.  We charge by the job, not by the hour, so you know what you're getting into before work starts.  We'll meet or beat any written quote from a licensed plumber, and offer discounts to military personnel, firemen, police officers, and senior citizens.
Need A Plumber In Perris?
Contact Us For 24/7 Immediate Response
Drain Cleaning
Have a backed-up sink, shower, or tub?  Or a slow-running drain?  Our sewer and drain services do things right, so you shouldn't be calling us back anytime soon.  Unlike many drain cleaning services we're plumbing experts that spot problems that could cause another disruption.
Sewer Lines
All the drains and toilets connect up to the same sewer line that joins the Perris sewage system at the street.  Any blockage there can affect any fixtures in the building.  The problem could be some foreign object that got flushed, a tree root invasion, a collapsed line, or simply a build-up of grease and sludge.  With so many possibilities anywhere along a line that's dozens or even a hundred feet long, we commonly use an in-pipe video inspection camera to understand exactly what's going on before we start sewer cleaning.  You can have a look yourself if you dare.
In a worst-case situation such as a damaged or badly deteriorated sewer line it may be necessary to replace the line.  Here you probably will want to take a look at the live video yourself.  Our plumbers are well qualified for a replacement installation and will handle all the Perris permits and inspections.
Hydro Jetting
For many tough situations, our hydro-jetting equipment comes to the rescue.  It generates powerful jets of water to scour the insides of pipes clean-as-new.  That not only removes all build-up and scale, but the smooth pipe walls will also be far less effective in collecting debris, grease, and sludge.  Hydro jetting can even cut through many obstructions, including tree roots.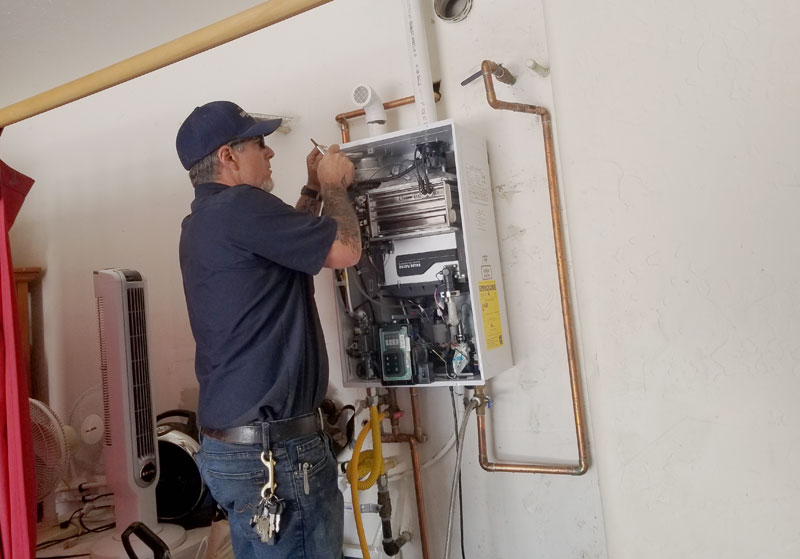 Hot Water Heaters
Our trouble-shooting experts quickly get to the root of any problem for a fast and economical heater repair.  Whether that means replacing a thermocouple, electric heating element, thermostat, protection anode, burner… whatever, the odds are that we'll have the replacement in stock.  And probably already on the truck.
If the repair is looking expensive, the tank itself is leaking, or your water heater is well past its warranty then it's time for a new water heater installation.  That usually takes just a few hours, and can often be done the same day.  Whether you choose an economical or premium model, we use only quality manufacturers and provide expert installation fully up to Perris building codes.  Including hauling away and properly disposing of your old unit.
If it's time for a replacement, if you're remodeling, our you need more capacity to consider a tankless water heater.  They're compact, typically last twice as long as most tank models, and deliver both extra convenience and energy savings.  You'll have unlimited on-demand hot water with up to a 34% reduction in energy use.  And we're certified in their installation, repair, and maintenance.
Have A Plumbing Emergency In Perris? You Can Count On Us! Call (951) 447-8227

Water Leaks, Slab Leaks
Have a leak that you can't track down?  Suspect, you have a leak but you aren't sure?  Our state-of-the-art electronic leak detection instruments are far more sensitive than a do-it-yourself water-meter test and are even better than the usual plumber's pressure test.  We not only confirm whether or not there's a leak, but we also pinpoint its location.  Even if that's far from where signs of dampness surface.  We can then take care of your leak repair without any unnecessary holes in your walls or floors.
That includes slab leaks, that is leaky pipes located underneath a concrete floor slab.  Their exact location is especially important as that can make a big difference in the type and cost of the slab leak repair — hacking through flooring and concrete, re-piping around the slab or through the attic, or pipelining.

General Plumbing Services
We're ready to meet all your plumbing needs including repair, replacement, and installation for toilets, showers and tubs, sinks and faucets, and garbage disposals.
We can also provide re-piping and new installation services for gas lines as well as for water and sewer lines.
We're especially known in the Perris area for our quality work in kitchen and bath remodels as well as in home and business additions.
Need A Good Local Plumber In Perris? You Can Count On Us! Call (951) 447-8227