Sink Installation and Repair
Time for a new bathroom or kitchen sink installation?  Have a drain connection or other problem that calls for a kitchen or bathroom sink repair?  Our plumbing services are ready for both residential and commercial needs — laundry rooms, kitchens, and bathrooms as well as a public lavatory, janitorial, prep, and wash sinks.
Sanford & Son plumbing provides sink repair and replacement services to all Lake Elsinore, Temecula, Murrieta, Sun City, Menifee, Wildomar, and surrounding areas.
Common Problems
Quality sinks properly installed last for decades, so we're typically called in for kitchen and bath remodels.  But with stains or scratches in a kitchen sink as well as chipped or cracked porcelain in bathroom sinks many homeowners choose a sink installation alone.  Fixtures and sinks may also develop drain problems that call for a sink repair.  Bathroom sink repairs also include adjusting or replacing the pop-up stopper assembly.
Need A Sink Replacement? Schedule Today!
Quality Service with the best plumbing technicians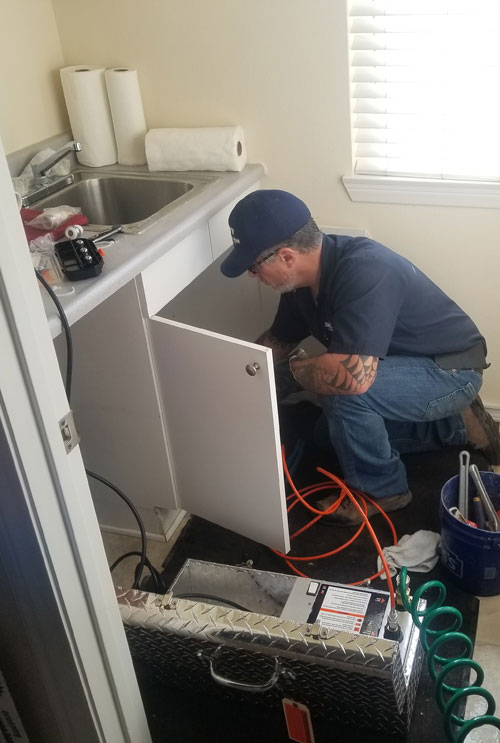 Replacement Choices
If you're considering a bath or kitchen sink replacement, from economy to designer models you have numerous options to consider.
Popular materials include stainless steel, porcelain or ceramic over metal, natural stone, and glass in a wide variety of styles, colors, and finishes.
For a quick replacement, you'll need to match the mounting style.  But for remodeling, you can choose between under-mount, drop-in, flush-mount, pedestal, apron front, vessel mount, and wall mount.
You also have numerous choices in the number and size of compartments as well as mounts for garbage disposals together with different types of faucets, sprayers, and water filters.
Installation Issues
It may seem simple at first. but sink installation actually requires a high degree of experience and skill.  For replacements it's necessary to match existing cutouts — it's not possible to seal wide gaps plus it's very difficult to cut granite or marble.  It can also be tricky to level and securely mount a sink without visible warping or excessive stress that damages the counter-top.  Bathroom sink drain hookups are usually very simple, but kitchen sinks may also hook up with drains for garbage disposals, dishwashers, and water filters.
TIP:  If your current sink has the faucet's mounting holes, the faucet will have to be removed and reinstalled.  So why not update that faucet as well?
Our Services
We've been meeting the area's professional residential and commercial plumbing needs for over 25 years.  Rather than hourly rates we charge a fixed-price for outstanding quality at economical rates.  We complete repairs efficiently, and a replacement sink installation typically takes only a couple of hours.
Need A Sink Installation or Repair?
We Can Help! Call (951) 447-8227