Tankless Water Heaters
Time for a new water heater? Consider a tankless water heater installation rather than replacing it with a similar model. Remodeling?  Tankless water heaters are a great way to add capacity with some added benefits such as never facing a cold shower. Our specialists can take care of installation and maintenance as well as any tankless water heater repairs you might need.
Sanford & Son plumbing provides professional and affordable tankless water heater repair and replacement services to all Lake Elsinore, Temecula, Murrieta, Sun City, Menifee, Wildomar, and surrounding areas.
The Benefits of Technology
This "on-demand" technology has been used in Europe and Japan for decades and is now catching on in California. Rather than taking a half-hour or more to heat a big tank back up, this technology uses a high-performance heat-exchanger that heats the water as it flows through. Up to their rated flow capacity, they deliver a constant supply, no matter how long you're using it. They're so small they can be placed in the kitchen and bath to give you essentially instant hot water — no waiting, no wasted water.
With no standby losses from a big storage tank, tankless water heaters also save energy. According to www.energy.gov for families that use a lot of hot water that may be as little as 8-14% but more commonly it's in the range of 24-34%. And when located at the point of use savings are typically
27-50%. Due to the advanced heat exchanger, this technology does require a bit more maintenance, but with that taken care of they usually last twice as long as storage water heaters (20 years versus 8-12 years).
Get a Free Tankless Water Heater Estimate
Quality Service with the best plumbing technicians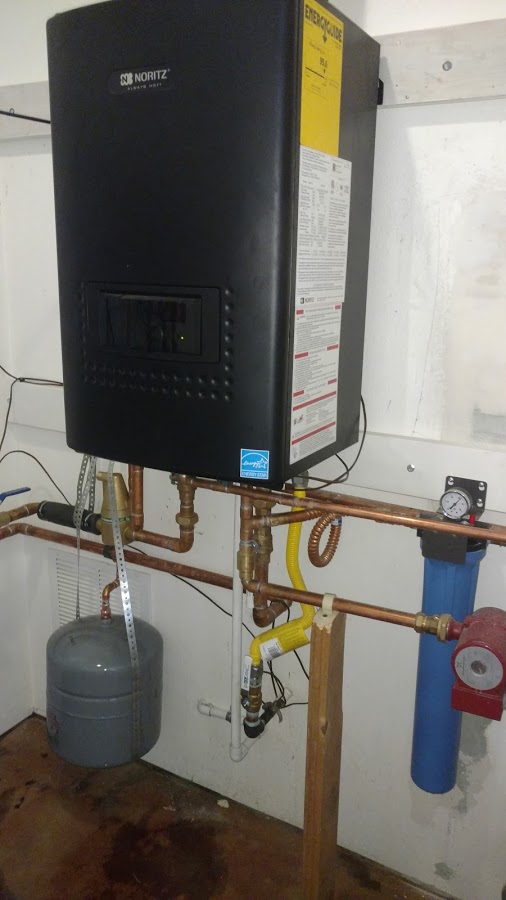 Our Services
We've been providing top-quality residential and commercial hot water heater services for over 25 years. We're licensed, bonded, and insured, plus we're certified to install tankless water heaters.
Tankless Water Heater Installation
Our expertise starts before installation begins. Working with you we'll select the best brand and model for your particular situation. The first decision is electric versus natural gas.  With tankless technologies, gas/propane provides higher flow rates than electric, but require venting and may require upgrading the gas line. On the other hand, electric models are much more easily installed under cabinets in the kitchen and bath. Either way, our tankless water heater installations typically take 6 to 8 hours.
Service
With Southern California's hard water, scale build-up inside water heaters can be a big problem that reduces performance and shortens their lifetimes. With tankless designs regular maintenance to remove scale is critical. That's usually once a year; with a water softener that may be every few years. But annual service is likely necessary to maintain your warranty. Our services include de-scaling, inspection, safety checks..
Repair
Regular maintenance and prompt repairs pay off with a lifetime of around 20 years. You may never need a replacement![/column]
Need A Tankless Water Heater?
Call Today (951) 447-8227