Professional Plumbing Services in Menifee, California
Have a plumbing problem?  We're a full-service residential and commercial plumbing contractor serving Menifee and nearby areas.  Our plumbing services include sewer and drain cleaning, water heater installation and repair, electronic leak detection, and a full range of plumbing repairs from garbage disposals to complete re-piping.
You can count on us for superior work at competitive rates.  For emergency service, we can arrive at your Menifee home or business in just 60 minutes.
Choose Sanford and Son
Fully licensed, insured and bonded our company has over 25 years of experience in residential and commercial plumbing services.
We charge by the job, not by the hour so that you can count on expert diagnosis and quality workmanship at a reasonable price.
Need A Good Plumber In Menifee?
Contact Us For 24/7 Immediate Response
Menifee Sewer and Drain Services
Have a backed up sink or toilet?  Our sewer and drain cleaning services will have things running freely in no time.  And our expertise and advanced equipment means that you won't need another drain cleaning any time soon.  Our drain service specialists recognize when regular cabling (drain snaking) isn't enough to completely clear out accumulated sludge.  Whenever that's the case you have the option of high-tech hydro jetting that scours the inside of drain and sewer pipes clean as new, even blasting off scale and cutting through tree roots.
If you have several slow-running drains the problem is most likely in the sewer line running from the building to the Menifee system, connecting at the street.  Besides grease food debris, hair, and soap scum these pipes can face even more troubles such foreign objects getting flushed, tree roots invading through joints, dips collecting sludge, and even a collapsed section of pipe.
We'll use our inline sewer camera, so there are no surprises.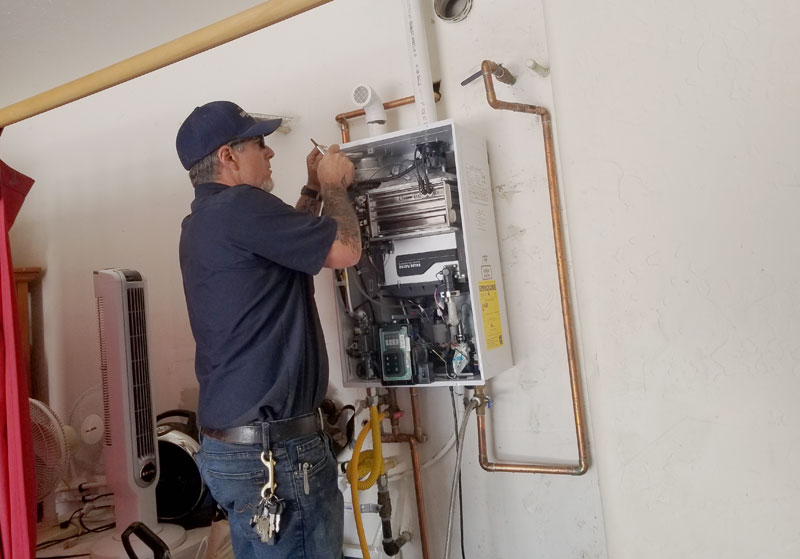 Water Heater Repair and Replacement
Our expert troubleshooters go right to the problem, saving time and money.  That often means working backward from the pilot light and thermocouple to the burner, gas valve and controller (or electric heating element) back to the thermostat.  Rusty or smelly hot water?  That means checking out the protective anode and/or flushing out deposits.  A leak?  That's likely a safety relief valve.
Is it time for a replacement?  If the tank is leaking, there's not much choice.  Otherwise, we'll be happy to discuss the pros and cons of repair versus replace given your current heater's age and condition.
If you need more capacity, such as for a bathroom addition, a tankless water heater is a great option using as much as 1/3 less energy.  They're compact, and electric models can be installed at the point-of-use, so there's no waiting for hot water.
You'll also have an endless on-demand supply of hot water.  We're factory-certified for tankless water heater repair and installation.
Have A Plumbing Emergency In Menifee? You Can Count On Us! Call (951) 447-8227
Leak Detection and Repair
With us, there's no guesswork.  Our expertise and electronic leak detection equipment mean no unnecessary holes made in tracking down the exact source of a hidden leak.
That's especially important for slab leaks.  Knowing their exact location before hacking through the concrete floor slab can save a lot of cost and disruption.  And often indicates that re-piping around the outside of the slab is a better solution.
Plumbing Repairs, Replacements, Remodeling
With master plumbers and a California contractor's state license, there's not much we can't do to meet your plumbing needs.
That includes installing faucets, sinks, tubs, showers, toilets, and garbage disposals.  Either as a repair or as part of kitchen and bath remodel.  And our master plumbers are licensed for sewer and gas lines so we can handle any replacements and re-pipes.
Our Recent Projects In Menifee
Have A Plumbing Emergency In Menifee? You Can Count On Us! Call (951) 447-8227