Gas Line Repair and Installation Services
Have a natural gas leak?  Need gas line repiping or a capacity upgrade?  Want to switch from electric to gas appliances?  Only experienced master plumbers are qualified to provide safe gas line repair and gas line installation services.
With high capacity for fast heating, natural gas is convenient and inexpensive.  But unlike do-it-yourself plumbing projects, there are no water drips to show a leak, and the tiniest of leaks pose serious hazards.  Working on gas lines requires special training and understanding of all the right materials and techniques.  There's no room for error.  Our team has everything it takes, and more, to take care of residential and commercial gas leak detection, repairs, upgrades, and installations.
Sanford & Son plumbing provides professional and affordable gas line repair and replacement services to all Lake Elsinore, Temecula, Murrieta, Sun City, Menifee, Wildomar and surrounding areas.
Gas Leak Emergencies
It's rather obvious that gas leaks can lead to fires and even explosions, but many people don't know that they can also lead to asphyxiation if it displaces enough oxygen.  Natural gas itself is odorless, so utilities add a rotten smell to help alert people to problems.  It's also lighter than air, so if you smell the odorant and aren't right beside a pilot light that's gone out you have a very serious problem.  And even small gas leaks can be deadly.
If you smell that sulfur-like odor, evacuate the area immediately.  Don't even turn off electric appliances as the switch may cause a spark.  If at all possible shut off the gas at an outdoor main shut off valve.  Then give us a call for emergency service.
Err on the side of caution, and if need be call 911 to have first-responders shut off the gas for you and clear the area.
Get A Gas Line Estimate
Quality Service with the best plumbing technicians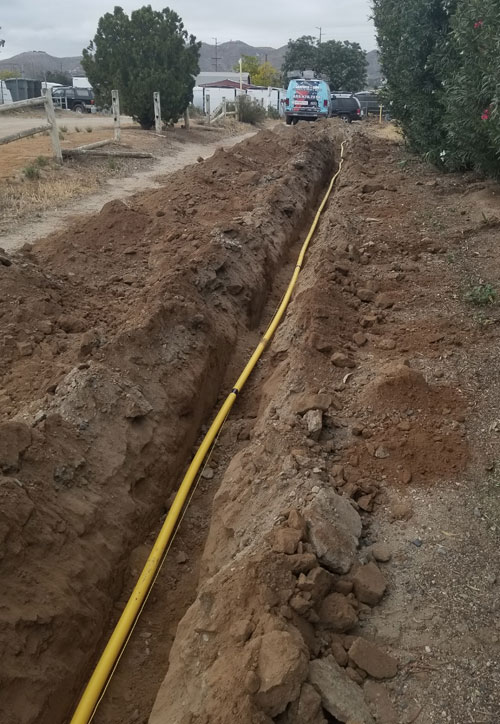 Gas Line Repair
Gas piping is durable and must meet high safety standards, but nothing lasts forever.  Corrosion, dried out seals, improper installation, earthquakes, and mechanical impacts can all cause gas leaks.  They most commonly occur along fittings and valves connecting to appliances such as water heaters, stoves, and clothes dryers.
Our experts can find and fix whatever problem you have.  They may use a tried-and-true bubble leak detection test on suspect fittings, or high-tech gear such as ultrasonics, narrow-band infrared, electrochemical, or semiconductor sensors to track down the exact location. In addition to skilled repairs, they'll assess the condition of your lines for the likelihood of any additional or future leaks.
RePiping — Gas Line Installation
Our master plumbers are skilled experts at gas line repiping and gas line installation, strictly following all standards (plumbing, fire, and local building codes) as well as local permit and inspection requirements. There are a number of important reasons you might need these services.
Your existing lines are old and must be replaced for safety reasons.
You need higher flow capacity when you're upgrading to higher capacity appliances such as tankless water heaters that require a higher flow rate than your current pipes can deliver.
You want to switch from electric to natural gas for stove-top ranges, clothes dryers, or water heaters.  Or you're adding a fire pit or pool heater.
You're remodeling your home or business, or perhaps adding a room, and need natural gas at new or different locations.
Choose Sanford and Son
Sanford and Son have over 25 years of experience in the full range of plumbing services and are fully licensed and insured with plumbers certified for gas line services.
When you call for gas line repair and installation emergency services we'll be at your home or business within 60 minutes.  Unlike most plumbing services we charge by the job, not by the hour.  So you can count on top-quality workmanship and materials at economical rates.
There's no room for error, so we'll be happy to evaluate your water and gas lines for any deficiencies.
Tip:  You know smoke detectors are a must.  It's also a smart move to install carbon monoxide and natural gas alarms.