Sewer Camera Inspections
If you think you might have a sewer problem, we'll find out for sure. And if you know you have a problem, we'll find out exactly what and where it is. Our video sewer line inspections send state-of-the-art digital video cameras down the main sewer so we can have a look at an obstruction. Once any obstructions are cleared we can then continue our sewer line video inspection of the entire length of the line to spot any damage and assess the pipe's general condition. And you're welcome to take a look yourself.
Our emergency service plumbing crew can be there in just 60 minutes to promptly meet your sewer and drain needs. After a video camera line inspection we'll provide per-job rather than per-hour pricing so you won't have any cost surprises. Our plumbing services offer discounts to seniors, military personnel, firemen, and police officers.
Sanford & Son plumbing provides affordable sewer camera inspection services to all Lake Elsinore, Temecula, Murrieta, Sun City, Menifee, Wildomar and surrounding areas.
The Technology
Unlike older fuzzy black-and-white sewer cameras, today's sewer line video cameras provide clear, color, high-def images so there's no guesswork about what we're seeing. But you can't just send a web-cam down a main sewer line! Sewer camera inspection gear needs to be inside a rugged water-proof housing specially designed to navigate through turns and past joints. That includes mechanisms for forcing it down the line and pulling it back out again, plus lights to illuminate the scene.
Need A Camera Inspection Schedule Today!
Quality Service with the best plumbing technicians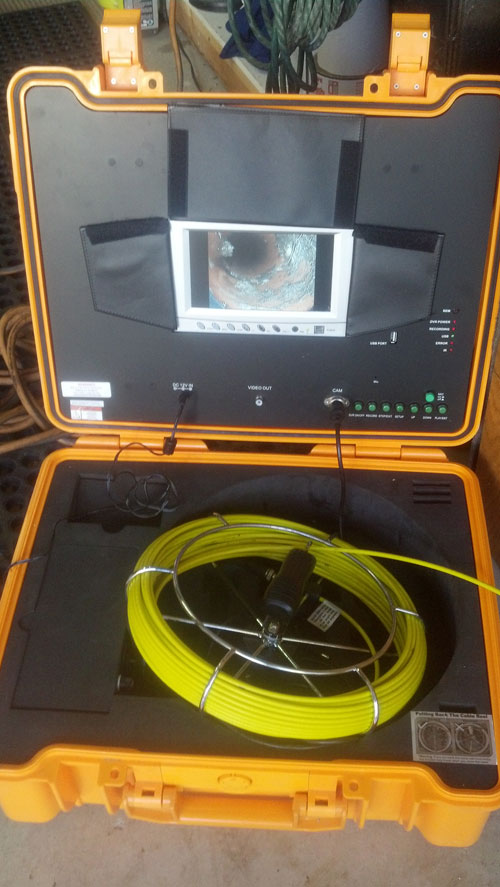 The Benefits
After a video camera line inspection we'll know the best way to deal with your situation, making the right choice from options such as the following
Cabling for sewer cleaning
Hydro jetting
Spot repair
Replacement by pipe bursting
Replacement by pipe lining
Replacement after trenching
And you'll be able to see why yourself.
Special features help us do our job better. Sewer line video inspection cameras tell us which way is up, and where it's located. It's relatively easy to tell how far the head has traveled down the line, but what directions and turns has it taken?  Ultrasonic and RF transmitters let us locate it in 3 dimensions so we'll know exactly where to dig if that's necessary.
Need A Sewer Camera Inspection?
We Can Help! Call (951) 447-8227