Temecula, California Plumbing Services
Need a plumber for your Temecula, California home or business?  We're ready.  And with 24-hour emergency services, we can be there within an hour.
Our technicians will quickly and correctly diagnose any problem, then complete repairs and installations with competitive pricing.  Our master plumbers are licensed for sewer and gas line work.  We're Temecula's certified tankless water heater specialists and have powerful hydro-jetting equipment for sewer and drain services second to none.
Our expertise includes sewer and drain services, water heater installation and repairs, electronic leak detection, slab leak repairs and more.
Why Choose Sanford and Son Plumbing?
We charge by the job, not by the hour.  So with our plumbing services, you can count on quality work efficiently done.  Locally owned and operated we've been in business for over 25 years.  And of course, we're fully licensed, insured, and bonded.
Need A Professional Plumber In Temecula?
Contact Us For 24/7 Immediate Response
Sewer and Drain Services in Temecula
Our residential and commercial drain cleaning services do the job right so you won't be having another backup or slow-running drain any time soon.  If our specialists discover evidence of excessive grease, grime, or scaling build up we can offer the option of hydro jetting.  This relatively new technology uses high-pressure jets of water to scour the insides of pipes as clean as new.
If the blockage is down in the sewer line between the building and the Temecula sewer main at the street, we usually perform a video inspection.  That's because there can be a wide variety of problems — sludge, a foreign object, tree roots, a collapsed line…  Our inline sewer camera shows exactly what's wrong and where the problem is located.  It also shows the overall condition of the line.  You can have a look at yourself and together decide if cabling, hydro jetting, a spot repair, or a sewer line replacement is the best route forward.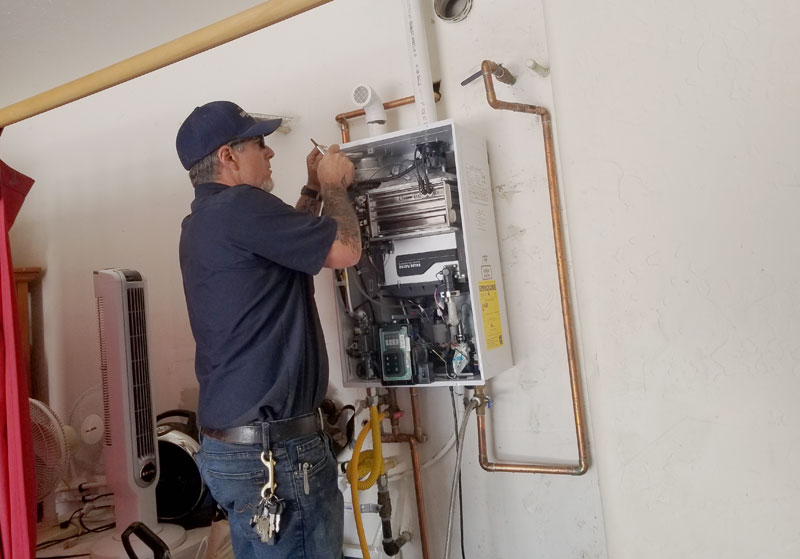 Water Heater Repair and Replacement
No hot water?  Or suddenly never enough?  Strange sounds from the tank?  Foul smelling or off-color hot water?  Whether your water heater is gas, propane, or electric our expert troubleshooters go straight to the problem for fast and economical repairs.
But if you have a tank leak or your existing heater is way past its warranty, it's probably time for a new water heater installation.  Replacements usually take us just a couple of hours, so same-day service is often possible.
You may want to consider a tankless water heater.  Relatively new to Temecula, they've been used in Japan and Europe for decades.  Besides lower energy use (as much as 34% less according to Energy.gov) they last roughly twice as long as standard models.  Best of all they're "on demand," heating the water as you use it — so there are no more cold showers.  We're certified for tankless water heater repair and installation.
Have A Plumbing Emergency In Temecula? You Can Count On Us! Call (951) 447-8227

Leak Detection and Repair
Suspect a water leak but can't track it down?  Our specialists combine experience with the latest electronic leak detection instruments to verify a problem then track down its exact location.  That saves time and avoids the unnecessary wall and floor repairs.
Pipes sometimes run underneath the concrete floor slab, a common type of foundation in Southern California.  Those slab leaks are especially difficult to locate accurately, but we're up to the task.
With the leak located we can recommend the best repair method — a spot repair (hacking through the slab) or re-piping — then make it happen.

Kitchen and Bath Plumbing
The kitchen and bath are focal points of your home.  So beyond functioning properly, you want them looking great.  We repair and install sinks and faucets, garbage disposals, toilets, tubs, and showers.  And can meet all your plumbing needs for a complete remodel.
Our Recent Projects In Temecula
Have A Plumbing Emergency In Temecula? You Can Count On Us! Call (951) 447-8227