Commercial Plumbing Services
You have far more things to worry about than plumbing.  Let our commercial plumbing services take care of all your those problems with preventive maintenance and prompt 24-hour emergency plumbing, sewer, and drain cleaning services.
Sanford & Son plumbing provides professional and reliable commercial plumbing services to all Lake Elsinore, Temecula, Murrieta, Sun City, Menifee, Wildomar and surrounding areas.
Commercial Sewer and Drain Services
We know all too well how clogged drains can bring restaurants to a halt and be a major headache for just about any other type of business.  So our professional drain cleaning commercial services are available 24 hours a day.  We also understand the special plumbing problems caused by FOG (fat, oil, and grease) in any facility that handles food.  We provide absolutely thorough drain cleaning for long-lasting solutions.
Our commercial sewer and drain services also include sewer line cleaning, repairs, and replacement.  We'll first scope out the problem with our inline sewer cameras.  For tough or recurring drain & sewer problems our advanced hydro-jetting restores the interior of pipes to like-new condition, and for repairs and replacement, we offer trenchless alternatives to more disruptive traditional methods.
Toilets and Urinals
Our commercial services team is experienced in the repair and maintenance of high-usage public fixtures, including flush-o-meter type valves.
Need A Commercial Plumber?
24/7 Immediate Response, Expert Technicians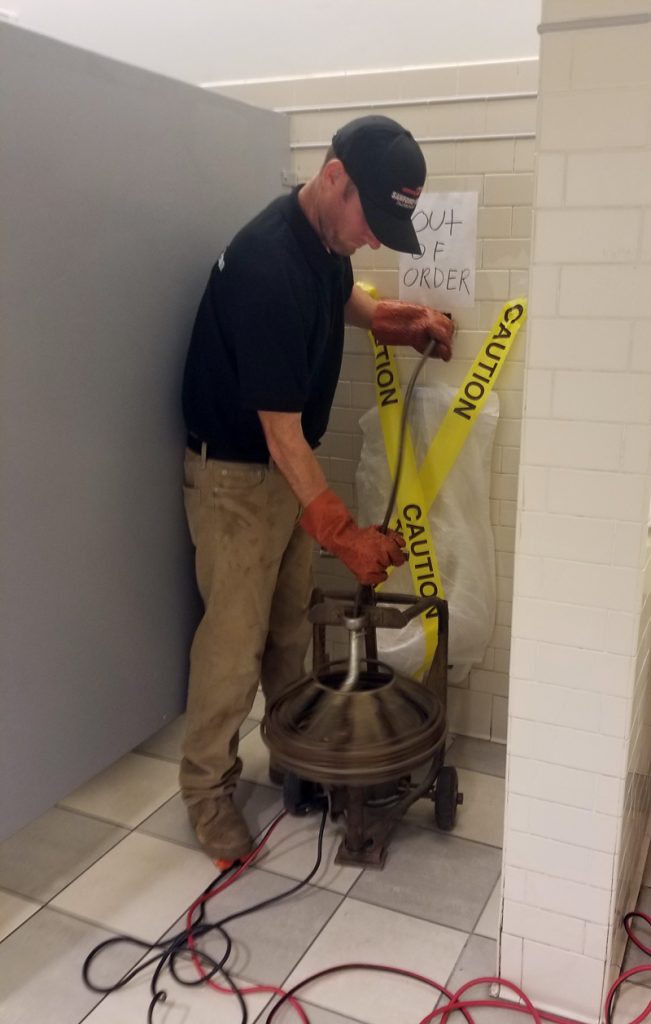 Other Commercial Plumbing Services
Our additional commercial plumbing services cover pretty much all plumbing needs you might have.
ADA requirement upgrades
Backflow testing and maintenance
Emergency plumbing repairs
Gas line repairs, upgrades, and installation
Hot water heater maintenance, repair, and installation
Leak detection with state-of-the-art electronic instruments
Plumbing & fixture installation and replacement for tenant improvements
Slab leak repairs
Tankless water heaters for long-life and energy efficiency
We'll be happy to arrange a preventive maintenance schedule tailored to your facility.
Why Choose Sanford and Son?
We understand the scale, complexity, and special nature of commercial services along with the importance of minimizing disruption to your operations.  Adhering to all OSHA, health, and building code requirements our plumbers are licensed, insured, and bonded.
Working efficiently they keep costs low and typically arrive within 60 minutes for emergency services.
Need An Experienced Commercial Plumber?
We Can Help! Call (951) 447-8227