Professional Drain Cleaning Service
Have a slow-running or backed-up drain? We know that seems to happen at the worst possible time and can totally disrupt your day or evening. So we're prepared and can have our sewer and drain emergency service experts reach your home or business within an hour, 24/7. Starting with a free estimate we charge by the job not by the hour. And we'll beat any written quote, whether for residential or commercial drain problems. Just as importantly, we stand behind our work. For laundry room, kitchen and bath you can count on us to fully clear a clogged drain so you won't have the same problem just a few days later.
Sanford & Son plumbing provides professional and affordable sewer and drain services to all Lake Elsinore, Temecula, Murrieta, Sun City, Menifee, Wildomar and surrounding areas.
Commercial Drain Services
Our commercial drain and sewer specialists are well aware of the differences between residential and commercial plumbing and fixtures. They're always on call, day and night, to meet your emergency plumbing needs. Our plumbing services also include scheduled sewer and drain cleaning along with other preventive maintenance.
$99 Drain Cleaning Special
Proper Access Required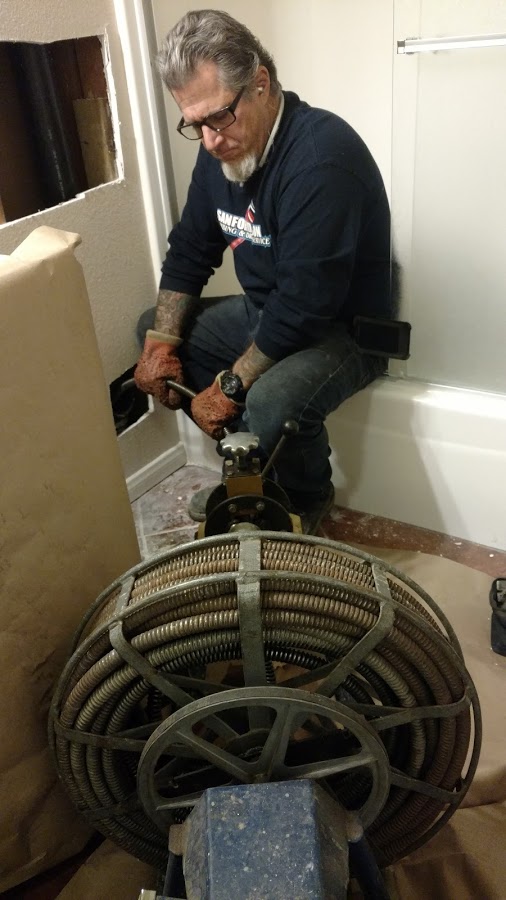 Kitchen Drain Cleaning Services
Kitchen sink clogged drains are usually caused by the gradual build up of grease hardening on the inside of drain and sewer pipes. The available opening becomes smaller and smaller, leading to slow draining. Then a bit of food debris can plug the hole, leading to a drain cleaning emergency. Your kitchen sink remains full of dirty water. Worse still, liquid drain cleaners don't work well on grease.
Our drain cleaning service quickly clears those clogs with power cabling. But even with our expertise and top-notch equipment it's not possible to completely remove all grease and sludge. And that means there can be more problems sooner rather than later. When that's the case we'll show you what we've found. Our advanced hydro jetting equipment can then scour away grease, grime, and even scale to leave the insides of your drain and sewer pipes as clean as when they were brand new.
Bathroom Plumbing Drain Cleaning
In the bath most clogs are the result of hair and soap scum. You may be able to remove the drain guard and simply pull out a clog. Liquid drain cleaners based on sodium hypochlorite (bleach) can also be effective. But never use lye- or acid-based products. They can indeed damage both plastic and metal bathroom plumbing.
If a few quick tries don't fix your clog, our drain services will quickly take care of bathroom sink, shower, and tub problems.
Laundry Room Clogs
Laundry plumbing includes a drain for the clothes washer and often a sink. Both can be clogged by lint, especially if you use fabric conditioner in the wash. Clothes washers usually discharge through a large-diameter hose that's simply inserted into an open drain pipe in the wall. Since a back up easily results in flooding, be especially aware of unusual noises. If there's any problem at all our sewer and drain services can quickly clear any clog and quite possibly prevent a major water-damage headache.[/column]
Got A Clogged Drain?
Call (951) 447-8227